http://www.capcom.co.jp
Capcom Co., Ltd.
3-1-3 Uchihirano-machi, Chuo-ku,
540-0037 Osaka
JAPAN
Tel.: ‎81-6-6920-3600
Fax: ‎81-6-6920-5100

| | | | |
| --- | --- | --- | --- |
| | Strategy & Goals | | |
Our Strategy for Growth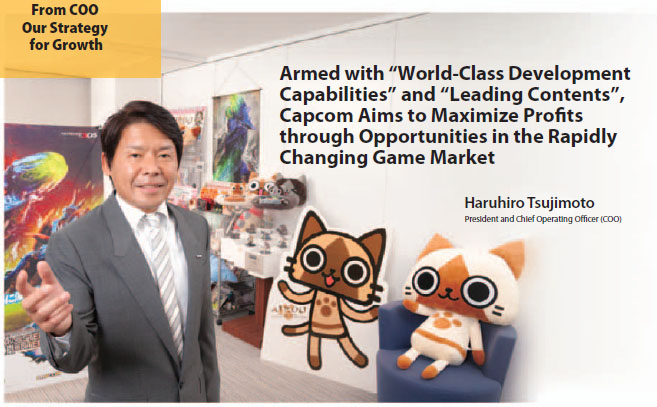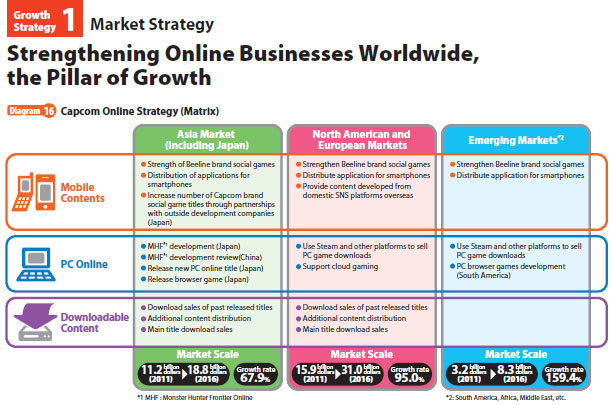 Aiming for Online Business Sales of 30,000 Million Yen in 2015
Online business measures include (1) increasing the number of mobile and PC social games, (2) enhancing downloadable content (DLC) for home video games, (3) developing PC online games by region and (4) enhancing development staff. By implementing these measures, we will grow Online business sales to 23,000 million yen (up 46.5% from the previous year) in the fiscal year ending March 2013 and 30,000 million by the fiscal year ending March 2015.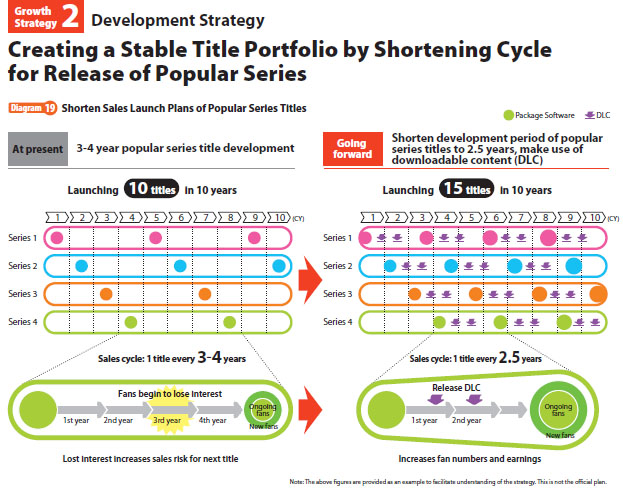 Aiming for Medium- to Long-Term Growth by Increasing Number of Package Titles Released in a Single Year
For Capcom to achieve sustainable and stable growth in the game software industry, where the presence or absence of hit products dictates performance, we mapped out a 60-month title development plan that lays out a medium- and long-term development schedule for multiple major titles in the first phase of structural reforms. By organizing efficient development teams according to this plan, we are able to invest in sequels to multiple popular games each year, which enables stable growth in the Consumer Online Games business. Also, we must further increase single-year sales of major software to achieve medium-term business goals. To this end, we are promoting (1) a shorter sales cycle for popular series titles and (2) the launch of new titles to create a title portfolio facilitating sustainable growth over the medium- to long-term.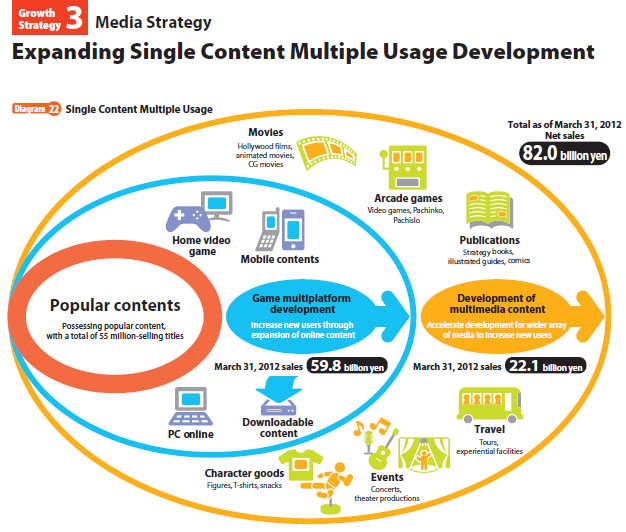 Multiple Revenue Streams from Single Popular Content
A "home video game" is an artistic media product that consists of highly creative, multi-faceted elements such as images, storyline, a worldview, music and interactive game play. This is exactly why each of these constituent elements can be individually developed into an attractive product through different facets of media. Therefore, we can expect the following four effects by developing each of these elements into different business fields: (1) creating new profit opportunities other than the Consumer Online Games business; (2) creating heightened excitement through increased exposure by simultaneous multiple-field development (promotional effects); (3) absorbing customers obtained from other business segments as home video game users; and (4) reducing profit fluctuations through business portfolio creation (risk hedge).

We own scores of intellectual properties based on popular content. We are now creating a business model to enjoy multiple profits by promoting Single Content Multiple Usage strategy in several applications. This strategy will allow us to leverage the success of our Consumer Online Games business with the aim of maximizing profits and achieving success in other businesses (Mobile, Pachinko & Pachislo, Arcade Games, Movies, Publishing, Character Goods, etc.).